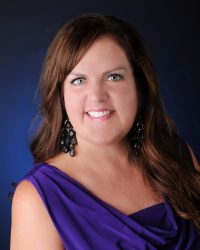 Mortgage Consultant / Loan Partner
Kristen's Bio:
I started my career in mortgage lending by accident in 1993.  I had gotten married and needed to find a job that provided medical benefits, so I answered an employment ad for American Residential Mortgage Company.   I worked there as the receptionist for about 6 months and was promoted to a lock-in clerk.  After about 9 months of locking loans as part of the branch level secondary marketing team, I was promoted to a wholesale coordinator where I answered calls and questions about loan products and guidelines for the brokers and loan officers that we worked with.  I did that for several years and then moved into a loan processor and loan officer assistant position.   
When Chase bought American Residential, I stayed for a short time but ended up going to work with one of the wholesale lenders that we did a bit of business with and then to Zions Bank where I was a loan officer in the Lehi Branch for a couple of years.  I enjoyed my time at Zions but was approached by the Chase Wholesale division and some past co-workers and offered a position as their Wholesale Account Executive which was a great experience and opportunity for me.  I worked to help introduce Chase Bank to the market in Utah by selling their mortgage products from Utah County down to St. George.    
It was while working with Chase that I met a group of people in Provo that really resonated with my philosophy and the way that I wanted to do business.  I remember sitting in their lobby waiting to see the owner and being offered a beverage.  I told the receptionist that I was not a client but that I was a sales representative – thinking maybe she didn't realize this when she offered.  She smiled and politely corrected me, reminding me that I was neither but rather, a guest in their office.  It was shortly after my first visit to Scott at his Rocky Mountain Mortgage office that I joined his team and have been with him for the better part of the last 20 years.  I worked for the first 10 years as a loan officer and have transitioned into a loan partner position that allows me to still originate loans of my own as well.  My position and the people that I work with is a perfect fit for me.  
Kristen's Why:
Every now and again I intentionally re-set and stop to ask myself why I do certain things and engage in different practices and beliefs in my life.  This exercise allows me to make adjustments where needed and get back to what is important to me.  One of the things that I re-visit every now and again is my "why" behind staying in this business and doing what I do.   
With my kids becoming adults, and potential homebuyers themselves, I find that I am drawn, as I have always been, to helping folks achieve the dream of homeownership.  It's honestly a big deal.  It's a huge decision, a huge commitment and a huge investment and I love being a part of that.   I love educating homebuyers, I love being a part of their process and I love the excitement and joy that I feel – every single time a first–time homebuyer signs their loan docs at the closing table. 
Another thing that is a sacred part of my job is the ability we have to get into the trenches with people.  As I am writing this, I am 47 years old.  I have loved and lost and cried over hardship and cried with others over their hardships, and come to understand that there is no place for judgement in living my best life.  There is only room for love.  Sometimes people come to us who have been through unbearably difficult situations or trials and because of what we do and the things that have to be addressed and explained during the loan process, we have the opportunity to hear their stories. It is a beautiful gift to be trusted with someone's story and to see the human-ness in others.  This is something that working in this industry gives me, it is a huge part of my why.  Humans matter to me.  
I feel like buying a new home is a little like closing a chapter in your life and moving on to the next.  Additionally, sometimes a refinance gives a family or an individual the capital they need to move into that next chapter whether it is recovering from death or divorce or loss of job or whatever challenge it is that folks are coming out of.    
Life is too short to not love what you do and people are my why.  They're the reason that I stay and get up every day excited to go to work again.  I am grateful.  
I'm here to answer any questions you might have about our products and services. Feel free to contact me using any of the following methods: